Share the Love Gift Card Program
Support 105 Gibson Centre with a gift card purchase. For every gift card purchased, 105 Gibson Centre will receive a rebate from the retailer. The accumulated rebates will enable us to continue programs and services in our communities.
You can purchase gift cards online through www.FundScrip.com. Use 8NR7DF as the invitation group code to register for your account. All purchases under this code will be rebated towards 105 Gibson Centre.  Please click here for online order instructions.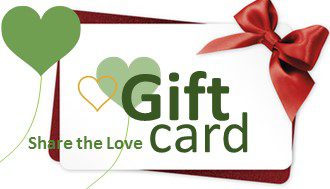 Purchaser can use 100% of the card's value
Rebate is not deducted from the card
Cards can be used online and in store
Easy to shop for popular retailers in one place
Option to purchase gift cards online instead of through paper order
Orders can be placed year-round
Ideal for Christmas, birthdays and employee incentives
Examples of Retailers and Rebate:
Canadian Tire – 5%
Cineplex Odeon – 4%
Esso, Petro Canada, Shell – 2%
Home Depot – 3%
Pizza Pizza – 10%
Roots – 10%
Shoppers Drug Mart – 3%
Starbucks – 5%
And more from 2% – 10%