Date: May 13, 2023 (Saturday)
Time: 9am – 12noon
Venue: Phyllis Rawlinson Park, Richmond Hill
Activities:
Planting native trees and shrubs with equipment
Removing invasive buckthorn from the site
Removing litter and debris from the area
All participants are also invited to join the Citizen Science Young Tree and Shrub Monitoring and Maintenance Program (YTMP). This is a citizen science data collection and monitoring program hosted by TRCA. It encourages groups to take "ownership" of their plantings, return to the site as part of the 3- year maintenance plan put in place, to cut back competitive vegetation to increase successful growth at the sites, and collect data on negative impacts from storm events, insect infestation, disease and wildlife browse, that affect plant survival. If you are interested in joining the program, please let us know on the event day. We will inform TRCA to follow up with you directly.
How to support?
There are 2 different ways to support:
Participate in planting trees and donate; or
Donate money only
How to sign up?
Click "Sign up as an individual/ team" bar on the right side.
To sign up as an individual, fill in the information in the "Individual fundraising" section.
To sign up as a team, fill in the information in the "Create a team" section.
After submission, just click "Edit my form" and you can describe your personal goal and reason for participating.
Your unique fundraising page will then be created. Now, share your link with your friends and family for their support.
How to donate?
Click "Donate" bar on the right side, choose "To a team or individual" to see the list of challengers.
Select the one that you would like to support; it will lead you to the dedicated fundraising page.
Further click "Donate", you will see the donation form.
Fill in the required information and complete the process. E-tax receipts will be automatically generated and emailed to the email addresses provided for all successful transactions.
I will not come to plant. But want to donate to 105 Gibson Centre
Click "Donate" bar on the right
Choose "To the general campaign", you will see the donation form.
Fill up the required information and complete the process.
E-tax receipts will be automatically generated and emailed to the email addresses provided for all successful transactions.
Frequently Asked Questions
Tree-planting is an enjoyable and educational event for all ages. This is also a practical way to show our care and concern for our neighbourhood communities and the environment.
We are partnering with the Toronto and Region Conservation Authority (TRCA) whose mandate is to safeguard and enhance the well-being of watershed communities through the protection and restoration of the natural environment. The TRCA will provide the young native trees and shrubs (2 to 3-year-old plants in 1 to 2-gallon pots) and guide us through the process.
105 Gibson Centre will donate a portion of the proceeds (about 10%) to TRCA to cover the material cost. The remainder (majority portion) of the funds will go towards supporting our operation.
There are different means of participation:
a) participate in planting trees;
b) donate money; or
c) become a fundraiser and invite your family, and friends to support you.
All participants are to wear appropriate clothing and footwear: long pants, long-sleeved shirt, close-toed shoes, or boots (any student wearing sandals or flip flops will not be permitted at the site due to safety reasons). There is prickly vegetation which can cause skin irritations and the best way to prevent this is to wear appropriate clothing. Anyone wearing shorts we ask you to not lean down on the ground due to thistle, nettle, and other prickly vegetation.
Participants should bring a hat, gloves, sunscreen, and insect repellant (to assist in repelling ticks) and water bottle (water will be on site for refills).
TRCA will provide the following:
All equipment including but not limited to: shovels, extractagators, loppers, pruners, hand saws, ear plugs (for protection against staff using post pounders), cleanup equipment, etc.
Safety talk upon arrival
Instruction on equipment use
Training on identifying invasive vegetation to be removed from the site
Water and a light snack
First Aid Kit
Please arrange your own transportation. Carpooling is good for the environment.
Yes. Parking is available in the park. Since parking spots are limited, carpooling is highly recommended.
Please arrive between 8:45 –  9:00am and park in the main parking lot next to the interpretive centre. There will be staff and signage in place that day to guide you to the planting area.
Only light snacks will be provided. To be eco-friendly, please bring your own reusable water bottles. The event will finish at noon.
Activity will take place rain or shine. Please bring rain gear.
The planting location is at Phyllis Rawlinson Park, 11715 Leslie St, Richmond Hill, ON L4E 3R7.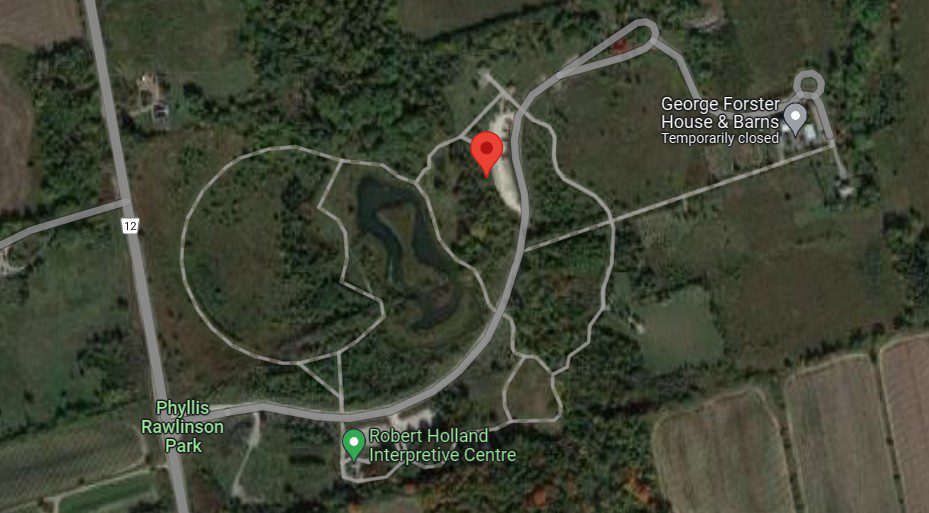 Click here to see the site location at Google Map: https://goo.gl/maps/vSzN33vaNtsEbMwc6