What is the 105 Gibson Tele Rehab Service?
Tele Rehab is a safe and effective method of delivering physiotherapy assessment and treatment via videoconferencing using a webcam.
It can be performed on a computer/laptop, tablet, or smart phone.
Tele Rehab can be used by anyone who cannot leave their home or office for a certain reason. For example: pandemic, work travel, stay at home parent, sick and unable to leave home, living in a rural area, or incarceration.
Tele Rehab can be administered anywhere with a secure internet connection.
It is recommended that the treatment be done in a quiet and safe area according to each patient's needs.
How to get started with Tele Rehab?
Each patient should have a well-lit area to work in and have adequate room to move around. Patients can wear loose gym clothing they are able to move around in and roll up as needed for assessment.
A sturdy chair with a back rest is recommended.
The physiotherapist will make open suggestions to what else can be used for treating the patient.
An electronic device with a webcam and microphone will be required for Tele Rehab.
What to expect from Tele Rehab?
During your first Tele Rehab appointment, the physiotherapist will do an assessment of your current health condition, past medical health, examine your movement and function, and provide treatment and education for your condition. A description of the home exercises may be emailed to patients as part of treatment.
For follow up appointments, an examination of function will be done to reevaluate function and treatment will be provided as required.
If the condition is deemed to be resolved, the patient will be discharged from the physiotherapist caseload.
No medical referral is required to see physiotherapy.
Back or neck pain
Pain in the shoulder, elbow, or hand
Pain in the hip, knee, ankles, or feet
Muscle strains
Nerve injury
Carpal Tunnel Syndrome
Fall prevention
Stiffness
Dizziness/vertigo
Concussion
General deconditioning and weakness
Feel free to set a consultation to see if Tele Rehab is right for you.
*Please go to the closest Hospital Emergency Department if you are having a medical emergency (stroke, recent head trauma, cardiac episode)
Return to doing activities of daily living independently
Reduce fall risk
Strength
Range of Motion/ Flexibility
Balance
Coordination
Reduced stress and pain
Better daily function and performance
All payments from the clients will donate back to 105 Gibson center for helping the community.
With insurance:
We do not provide OHIP, WSIB, MVA, or OW based Physiotherapy, and patients can use private insurance to claim for expenses. We will only use private insurance for claims. Patients will receive a receipt to submit for claims and reimbursement.
Without insurance:
A reduced fee will be charged if the client has no insurance coverage. Clients with income less than $35,000 will only pay for a nominal fees comparing to the regular fees charged by the therapist. Please call to inquire.
How to find us?
Via video conferencing.
To make an appointment:
Call: 647 918 1205 (please leave us a voice message)
or Email : amyl@105gibson.com
We will return your call/email within 2 business days.
Physiotherapist: Mr. Derek Cheung
Derek Cheung is a registered physiotherapist and the delighted owner of DC Sport Physio Clinic. He is certified in McKenzie Diagnostic Technique (MDT) and has training in musculoskeletal physiotherapy. He offers assessments and treatments using manual therapy, education, and exercise via in person and through tele rehab services. Derek is excited and dedicated to provide his patients with treatment based on the latest evidence in sports medicine research. Derek is a graduate from Queen's University physical therapy program and also holds a Master's in Rehabilitation Sciences from Western University. During his spare time, he loves to spend time with his family, working out, and volunteering at church. He offers services in English, Cantonese, and some French.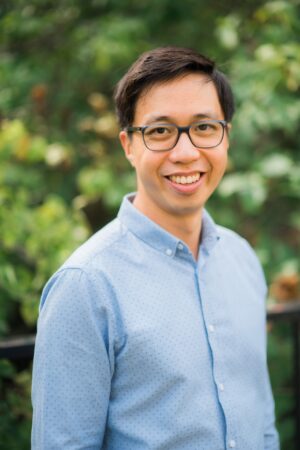 Do you have a question, issue or feedback?
Please fill out the form below and we are happy to help and answer your questions!