活動內容:唱歌、跳舞、運動、美術,手工,郊遊(費用另計)及專題講座,
讓參加者享受與人互動及學習與下一代建立正確的溝通方法。
內容: 參觀有機農場及花園及了解有機耕種的要訣,
King Cole Duck ,及 Vaughan Mills Outlet Mall 自由午餐及購物

我和太太多年前移民多倫多,現在孩子已經長大,我們夫婦已退休多年,我們住在士嘉堡東面,交通不方便,自己又不開車,附近有文化中心,但收費昂貴近百元一個課程,沒有參加。平時和太太在附近散步,大部份時間留在家裡。去年暑假我們參加了豐盛生命學苑舉辦的四天長者日營,感到很喜歡。今年我們也參加了七至八月逢周二及四全日制的活力長者營,內容更多采多姿,有健體身,講座及手工藝,還提供美味午餐和接送,義工們親切又和藹,我們夫婦非常享受日營每個環節,並認識了一群背景相仿的朋友。每星期都期待能回中心見朋友,生活很充實和愉快!
很感謝中心各位工作人員及義工,在金錢、時間和才能上無私的付出,盡心盡意的策劃周詳,照顧我們長者的需要,讓我們感受到尊重和厚愛,這份愛如溪水般源源不絕的充滿了中心,與其他地方不一樣,源頭來自哪裡?我們深受感動!活力長者日營即將結束,愿能繼續參加中心的豐盛生命課程,延續友誼及豐富生活!
她2018第一次參加105 Gibson中心的「活力長者夏令營」。起初報名時,還以為一定好悶,以後多來幾次覺得夏令營真不錯,當中很多活動對老人家很有幫助,尤其那些健身操給他們有舒展筋骨的機會,另外又有人教唱歌,更有人講些福音,自己可以藉這些機會與其他人溝通,又可以向一些未信主的營友傳福音,總括來說:這個夏令營真是辦得不錯。
感謝豐盛生命學苑能給一班長者一個彼此認識的機會,令我們生活更添姿采。記得夏令營的主題為人生回「賞」,我覺得這個活動無論程序的設計和義工的熱心服事,均能令參加者心靈更新和知識提升,實在值得一讚。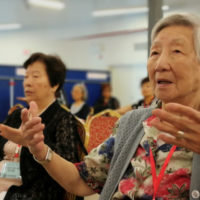 Mrs. Tsui is a 94 year old lady with small but intelligent eyes. Due to her weak hearing, our conversation was conducted by writing on paper. She is particularly fond of attending the medical and health talks at 105 Gibson Centre as she finds them very helpful and informational. She often leaves home at 9 am and stays at the Centre for activities until well after 4 pm. Feeling tired from going out for such long time, she seriously wishes the Centre has a place for her to nap!
Praise Dance is her favourite exercise here. Singing hymns while dancing brings her great peace and joy. She greatly appreciates all the volunteers at the Centre for their loving care, and the staffs for their efficiency in organizing the programs and activities. Having been a Christian for more than 60 years, Mrs. Tsui is most enthusiastic to share her faith with her friends. It is really amazing to see her in high spirits and her eyes shining with joy whenever she talks about her faith!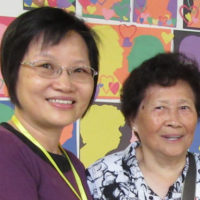 Mrs. Mou-Ying Chan puts on a broad smile as she passionately shows me around 105 Gibson Centre. Mou-Ying has familiarized herself in just six weeks after joining the Spring Passion Senior Summer Camp. Immigrated to Toronto 30 years ago, she lives in leisure after having brought up her children as well as grandchildren. She spends her time watching TV at home, not going out much, until her daughter's former colleague invited her to the Senior Camp.
Among all the activities, she enjoys Praise Dance the most as she exercises while listening to inspirational hymns and draws herself closer to the Christian faith. She has learned to give thanks often from the Senior Camp.
She loves the many group activities and extended her special thanks to Pastor Monica and all the volunteers involved for their warm welcome and detailed organization. Clearly, Mou-Ying had a wonderful summer at 105 Gibson!